Passport of goods and warranty card
The entire line of Gorilych moonshine stills, distillation and distillation columns, as well as all CHZDA products sold through official dealers throughout Челябинской обл., is covered by an official factory warranty valid for 12 months from the date of sale. When selling in Челябинской обл.a household moonshine "Gorilych", ask sellers to provide a passport for the goods with a filled warranty card. You can always apply with your suggestions and complaints regarding the quality of products of CHZDA directly to the central office by calling the toll-free number 8 (800) 775 90 83 or sending your message by e-mail mail@chzda.ru
Gorilych is an official registered trademark. All products officially sold under the registered trademark "Gorilych" are original and high-quality products. Our customers can always verify the authenticity of purchases in stores or check their order in the presence of a courier.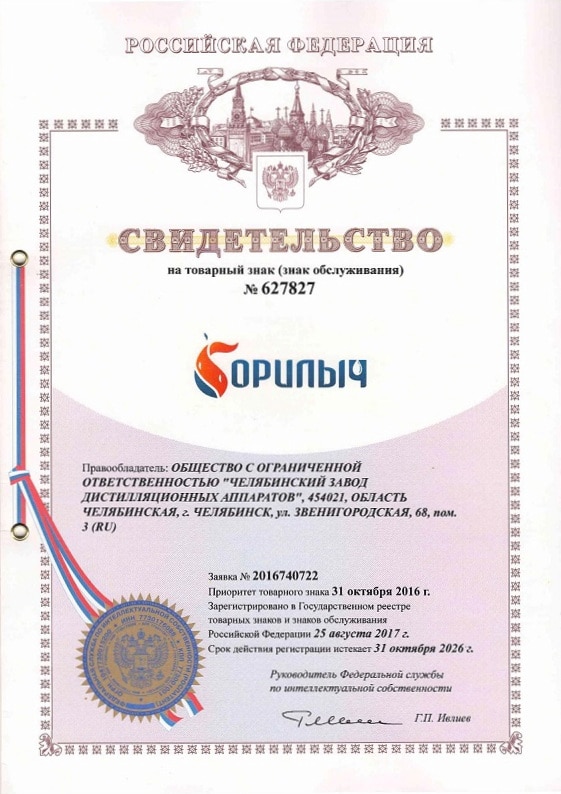 Certificate of conformity
The certificate of conformity for ChZDA products is a legally regulated document, which is drawn up by an accredited certification body according to the results of the provided laboratory tests and indicates that all products manufactured under the Gorilych brand have passed the examination and received certificates of conformity TU 25.99.29-001-02870126 -2018. All moonshines, distillation and distillation columns, smokehouses and other products manufactured by our company are suitable for use in the food industry.